Showing 1 - 10 of 46 News Articles (
summary
)
E. Kušen, M. Strembeck: The Effects of Multiple Exposure to Highly Emotional Social Media Content During the Early Stages of the 2022 War in Ukraine
In: SN Computer Science 4, 663 (2023).
https://doi.org/10.1007/s42979-023-02080-w
Job opening: Teaching & Research Associate / Universitätsassistent/in (prae doc)
The lnstitute of lnformation Systems and New Media (WU Vienna) invite applications for a position as a Teaching & Research Associate (praedoc). Reference Number: 1822
Application materials can be submitted online until September 27th, 2023.
Please apply via the following link: https://www.wu.ac.at/karriere/arbeiten-an-der-wu/jobangebote/?yid=1822
E. Kušen, M. Strembeck: Short- and long-term impact of psychological distance on human responses to a terror attack
In: Online Social Networks and Media (OSNEM), Volume 33, January 2023
https://doi.org/10.1016/j.osnem.2023.100243
Best Paper Award at 56th HICSS Conference (2023)
Congratulations!
The paper "German Federal Election on Social Media: Analyzing Electoral Risks Created by Twitter and Facebook" has won the Best Paper Award for the "Internet and the Digital Economy" track at the Hawaii International Conference on System Sciences (HICSS). An earlier version of this paper was published as a working report of our Sustainable Computing Lab [1]. The paper was presented in the mini-track on "Human-centricity in Sustainable Digital Economies" which was organized and chaired by Soheil Human, Gustaf Neumann and Rainer Alt.
We congratulate our colleagues Johanne Kübler, Marie-Therese Sekwenz, Felicitas Rachinger, Anna König, Rita Gsenger, Eliška Pírková, Ben Wagner, Matthias C. Kettemann, Michael Krennerich, and Carolina Ferro for this achievement and look forward to our next year's mini-track at HICSS.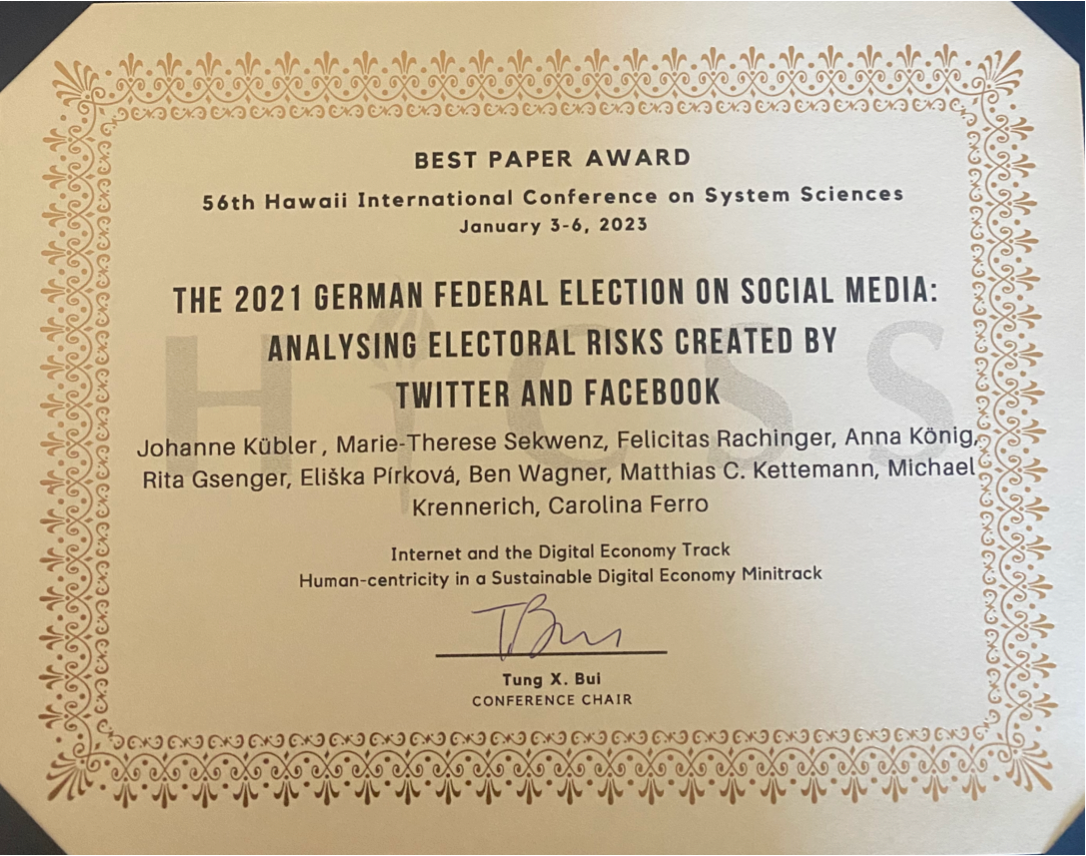 [1] https://www.sustainablecomputing.eu/wp-content/uploads/2021/10/DE_Elections_Report_Final_17.pdf
2022 EDUNIVERSAL BEST MASTERS RANKING
We are pleased to announce that the "Information Systems" programme of our Institution is ranked as #1 in the 10th Best Masters Ranking (2022) for Information Systems programmes in Western Europe.
The quality of the program was measured by three main criteria:
The reputation of the programme: be known and recognized by recruiting companies and have an active approach towards them.
The salary of the first employment after graduation: placement of your graduates in the best job positions on the market.
Student's satisfaction: work on improving your programmes by considering the feedback of your students.
This ranking gives our programs greater visibility with all stakeholders, including students, HR professionals, and the media.
https://www.best-masters.com/ranking-master-information-systems-management-in-western-europe.html